立项一年,准备半年,埋头一周,综述《制度均衡:一个博弈论的视角》终于完成初稿。没有那种预料的酣畅淋漓的感觉,反而感觉很多问题如骨鲠在喉。这段时间,重点关注制度经济学的理论和经验研究。
终于开始翻译拉丰的遗著《规制与发展》(Regulation and Development)了。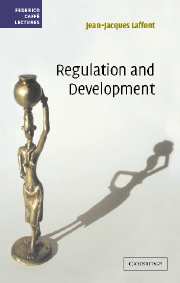 In Regulation and Development Jean-Jacques Laffont provides the first theoretical analysis of regulation of public services for developing countries. He shows how the debate between price-cap regulation and cost of service regulation is affected by the characteristics of less developed countries (LDCs) and offers a positive theory of privatization that stresses the role of corruption. He develops a new theory of regulation with limited enforcement capabilities and discusses the delicate issue of access pricing in view of LDC's specificities. In the final chapter he proposes a theory of separation of powers which reveals one of the many vicious circles of underdevelopment made explicit by the economics of information. Based on organization theory and history, and using simple empirical tests wherever possible, Professor Laffont offers a comprehensive evaluation of the different ways to organize the regulatory institutions and opens up a rich new research agenda for development studies.
• Jean-Jacques Laffont is one of the world's leading economists • Offers the first theoretical analysis of regulation for less developed countries • Combines economic theory, historical evidence and empirical tests to offer a rigorous analysis
Contents
Foreword; Introduction; 1. Overview of regulatory issues; 2. The rent extraction-efficiency trade-off; 3. A positive theory of privatization; 4. Enforcement, regulation and development; 5. Access pricing rules for developing countries; 6. Universal service obligations in LCDs; 7. Design of regulatory institutions; 8. Separation of regulatory powers and development; 9. Concluding remarks.
还有好多文章事情要做,奈何掣肘太多。